Okay folks, don't ask me why I'm doing this, since I don't really use the GTD Outlook Addin, preferring instead to exploit the multi-faceted Projects-As-Contacts method. However, I've heard the requests for some sort of "summarizing" functionality in the Addin, akin to the Activities tab for Projects in the P-A-C system, and I decided to experiment a little. The result is the
GTD Binocular
, a combination of VBA gizmos that more-or-less mimics (for the GTD Addin) the view of Items linked to a Project that is provided by the Activities tab.
With the
GTD Binocular
, you select an Item that is related, via the Addin, to a Project. It could be the Master Project Task or any other Item "linked" to the Project.....

Then click the
GTD Binocular
button on the Toolbar.....
The GTD Binocular will search all your folders for Items related to the same Project as the originally highlighted Item, and display a list of those Items in a new window.....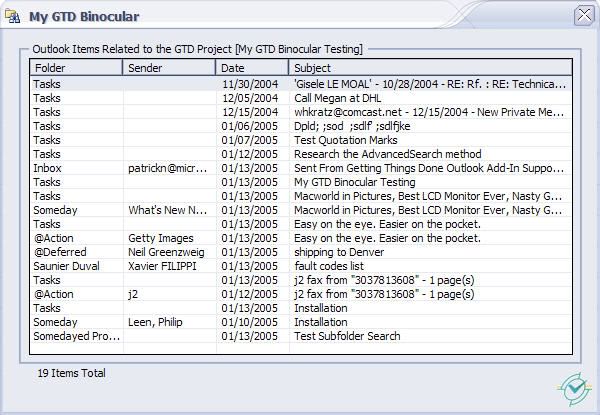 The window will resize to accomodate the number of Items listed.....

and some common functionality is available in the list of Items.....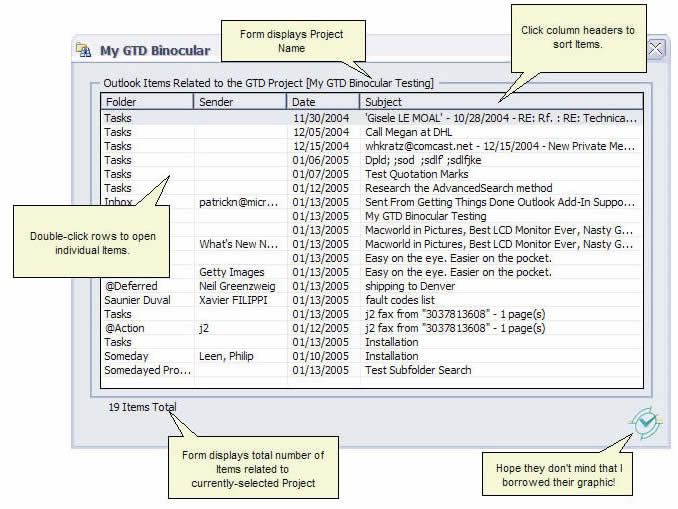 I have this gadget working nicely with an Outlook 2003 PST (I haven't tested it yet on an Exchange installation), but before I post it for everyone's use, I need some brave souls to test it out on their systems to help find the problems that I've missed. If you are interested in a little, simple beta testing, send me an e-mail at
whkratz@comcast.net
, and I'll send you the necessary VBA gizmos. (Please note that Outlook 2002 [XP] or Outlook 2003 is required.)
Best Regards.....Bill Kratz