GTD L1 Certified Trainer, India
A few months ago my eight year old told me his plans to start earning his own income as early as 13 years of age. He also knew what it would be with - Stop-mation Video Creation! I thought it was wonderful and figured that I'd gradually equip him with the skills and knowledge he'd require to be able to monetize this passion as a young teen. But it honestly remained a mental note for me (my bad!) And then today, I had an eye-opening reminder that I've got to be more serious about his goals as well.
This morning as I was drying out the laundry, Liam, my son comes over to ask me if he requires to complete a course or 'study' stop-mation to get a job in the field. I told him that experience and a course will be appropriate to qualify him for one, unless he wants to get going on his own and sell his ready work in the market. He then went back into his room and asked me to come review some plans he'd made with sticky notes. I walked in expecting some childish writing on a Post-It.. and was instead met with complete wonder! This eight-year old had attempted to create an amateur and completely self-taught version of his Horizons of Focus!!!
I've attached two images here. The first one is his initial work which he showed me. Then we discussed, and after I asked him to explain his thought process and I coached him to understand how he would approach them, he revised it, which is the second image.
Now, I really want to:
Ensure that I nurture and channelise this natural need to be planned
Ensure that I'm not missing out on identifying how his horizons fit/merge into my own and keep them in perspective while planning my own projects and tasks.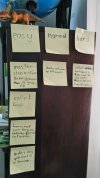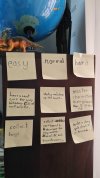 Last edited: